"Yeah baby, yeah!" Said the photographer. He walked up to me, "Blue Chicks Rock, Grooovy baby… Groovy yeah!"
His incessant babbling would probably make me want to go sith… But that's just what that no good Nepharia would want.
"Listen to me baby… We've got outfits, screens, weapons and the works… So work it for me… Make love to me through the lens… Kiss my eyes with your body… Yeah!"
"Let's start with your normal darling… Show it to me."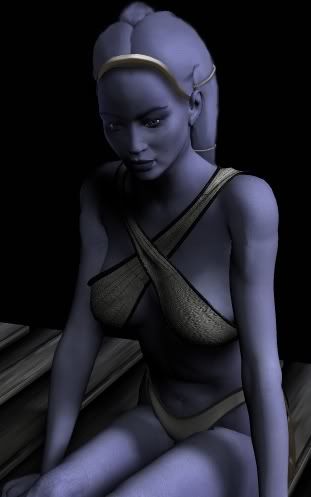 (This is my normal outfit. It is the outfit I wear when I pretend to be a dancer. It is part of being a Jedi Spy, I can't resemble a Jedi in any-way.)
"Let's see something else baby, change over there… Grrrrrrrooowwwwllll…"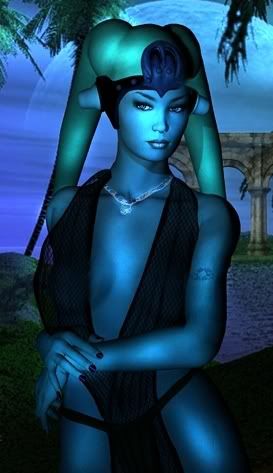 (This is typically how I dress around the jedi temple. A little more conservative, it ticks off some certain old green guys when I distract the pubescent jedis from their studies.)
"Get Mad Baby… Habby-dabu-Dorriieee…"
(This is Darth Inferna, she is as much a part of me, as I am of her. She is my dark half, my moonlit eclipse.)
"You know I don't like getting my picture taken…"
"Feel it baby… Let the lens read you like a book…Yeah!"
He had some nasty teeth, that's for sure.
"Come on, let's see you in some white, why all the depressing colors, show me white!"
(I once wore a clone's outfit to trick Mace Windu into believing I was just one in a crowd. It looks good on me… I think.)
"Show me relaxed, you look so uptight baby! Have a glass of wine, and chill…"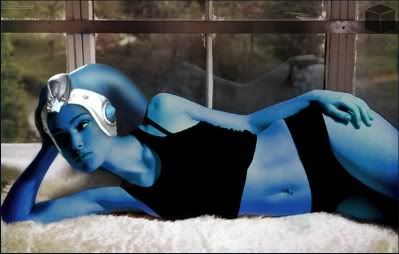 (This is me at rest. When I lay around the ship, this is the outfit I typically wear, soft taun-taun cotton to keep me warm, but still breathable.)
"Show me what you go to dinner with bald men in!"
I shook my head, I'm sure I still had that laying around.
(It was a nice dinner professor. Thank you for the experience.)
"Show me nothing! Show me your bare flesh…" He looked at me expectantly. He wouldn't get too far…"
(I like the tribal tattoos. They always made men look twice.)
"Show me your worst enemy baby… Show me you at your worst."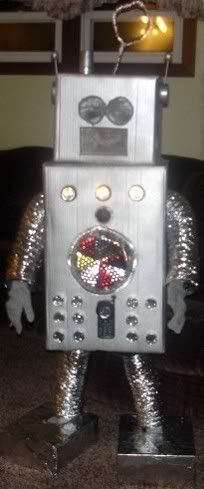 (No comment.)
"Show me army chick, I like army chicks…"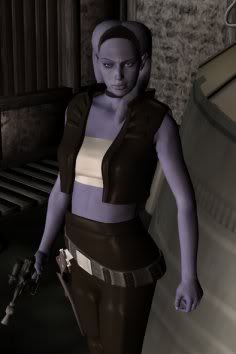 (This is when I'm feeling Gunsmokeish.)
"Show me your best outfit… I want to see it!"
(Nanny got me this… She's so sweet. I save it for only the most special occasions, and I love it dearly…)
"Look!" He said, "Our other model is here to help you, yeah. Two blues…"
"Blue… Two… I'm indigo! And she's… A stupid-dumb-face!" I yelled.
"At least I'm not a tri'lek!" said Aayla.
"Groovy!" he cried, "Show me feisty, get changed, one last picture!"
(I still look better… She looks stupid Aayla is stupid…)
"You're stupid," Aayla said, "This is stupid…"
I shook my head, my three lekkus bounced in the air as I kicked Aayla to the ground, "Stupid? This is Hacknor!" She fell into a nearby trashcan. I walked up to the photographer and said, "I want copies… If I don't get them, I will hunt you down."
"Groovy baby. Right away."
Camera Hugs, and Lens Kisses,
Erifia Apoc